Una serie documental que retrata la vida de ocho niños que luchan por sus sueños. El programa es un reconocimiento a los protagonistas y también a sus familias, héroes que afrontan el día a día superando obstáculos.. Lara, Eidher, Vicky, Anthony, Amira, Juanito, Nira y Claudia nacieron con algún tipo de discapacidad, pero con la ayuda de sus familaires, sus amigos o compañeros han logrado superarlas y, además, jamás pierden las ganas de salir adelante. Son capaces de todo con valentía, optimismo y decisión. Saben que su esfuerzo y el de su familias, siempre tiene recompensa y que si se lo proponen llegarán a lo más alto. Para ellos la vida es un reto continúo porque quieren aprender y no descansan hasta cumplir sus sueños.

Warning: Declaration of C_DataMapper_Driver_Base::define($object_name, $context = false) should be compatible with C_Component::define($context = false) in /homepages/29/d552408043/htdocs/Adimo/wp-content/plugins/nextgen-gallery/products/photocrati_nextgen/modules/datamapper/class.datamapper_driver_base.php on line 741

Aquí les dejamos el cuarto capítulo para que puedan volver a disfrutar de nuestros 8 Héroes. Héroes, se puede ser feliz siendo diferente
Héroes, se puede ser feliz siendo diferente
El capítulo de "Héroes" ha vuelto a ser un éxito de audiencia, convirtiéndose en uno de los programas más vistos en su franja del pasado miércoles. ¡¡¡Muchas gracias a todos por su apoyo y por el cariño que muestran a diario a nuestros niños!!! Para los que no pudieron ver en directo el séptimo episodio, aquí tienen el enlace de Youtube. ¡¡¡Feliz día!!!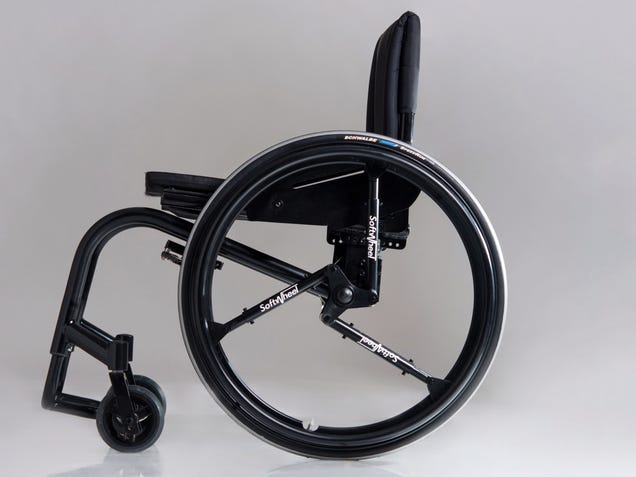 Dice el refrán que no hay que tratar de reinventar la rueda, pero el inventor israelí Gilad Wolf demuestra que hasta eso es posible. Wolf ha diseñado una rueda en la que los radios son, en realidad, amortiguadores de suspensión neumática que absorben los impactos y las vibraciones.
La Softwheel ha sido creada en el marco del acelerador tecnológico de Tel-Aviv, y su primer objetivo es reducir las vibraciones que las ruedas convencionales transmiten a las sillas de ruedas. El propio Wolf pudo constatar que estas sillas médicas pueden ser extremadamente incómodas de usar. Su creación está pensada para hacer más comfortable la experiencia de desplazarse en uno de estos vehículos a los pacientes que lo necesitan, y reducir las posibles lesiones derivadas de la vibración.
Las primeras Softwheel saldrán a la venta a finales de 2014, y son caras (unos 2.000 dólares) ya que sus primeras aplicaciones son eminentemente médicas. Sin embargo, Wolf ya ha pensdo en usos más lúdicos y asequibles. En bicicleta, estas peculiares ruedas permiten circular de manera mucho más suave que las convencionales. Según Wolf, permiten circular cómodamente sobre cualquier terreno y transmiten mejor la fuerza de la pedalada.
La jornada formativa fue organizada por ASPERCAN y el Cabildo de Lanzarote con motivo del Día Mundial del Autismo
El Cabildo de Lanzarote acogió el pasado viernes una Jornada sobre el Síndrome de Asperger en el que participaron cerca de 300 personas de la isla, profesionales, técnicos, sanitarios, educadores y, entre otros, población en general, interesadas en tratar esta afección que según el consejero de Bienestar Social y Sanidad del Cabildo de Lanzarote, Marciano Acuña, "afecta de 3 a 7 de cada 1000 personas".
"El síndrome de Asperger es un trastorno severo del desarrollo que conlleva una alteración neurobiológicamente determinada en el procesamiento de la información", detallaron durante el desarrollo de este acto formativo. "Es considerada una afección del ámbito de la discapacidad, concretamente del espectro del autismo, muy frecuente y poco conocido entre la población general e incluso desconocido por muchos profesionales", explicó el consejero del área.
Estas Jornadas se celebraron en el marco del Día Internacional del Autismoque se celebró la pasada semana, desde un punto de vista formativo, en colaboración con la Asociación Asperger Islas Canarias (Aspercan).
El Síndrome
El síndrome se manifiesta de diferente forma en cada individuo, pero todas las personas diagnosticadas tienen en común dificultades para la interacción social, especialmente con personas de su misma edad, alteraciones de los patrones de comunicación no-verbal, intereses restrigidos, inflexibilidad cognitiva y comportamental, dificultades para la abstracción de conceptos, coherencia central débil en beneficio del procesamiento de los detalles, interpretación literal del lenguaje, dificultades en las funciones ejecutivas y de planificación, la interpretación de los sentimientos y emociones ajenos y propios.
Supone una discapacidad para entender el mundo de lo social. Los déficit sociales están presentes en aspectos del lenguaje tales como dificultades en el ritmo de conversación y frecuentemente alteración de la prosodia (entonación, volumen, timbre de voz, etc..). Asimismo, suelen ser disfuncionales los patrones de contacto ocular, gestual, etc.
En la mayoría de los casos también presentan dificultades en la coordinación motora.
Aquí les dejamos el tercer capítulo de "Héroes". Una vez más, muchas gracias por el cariño que muestran cada día a nuestros niños y sus familias. No olviden compartir los videos para que siga creciendo la familia Héroes. Héroes, se puede ser feliz siendo diferente
El pasado jueves 20 de marzo se disputó en la avenida y playa de Guacimeta las II Olimpiadas Adaptadas IES Playa Honda 2014, un evento que contó con la participación de 114 deportistas de 13 centros educativos de Lanzarote.
El objetivo de esta actividad era el afán de superación del alumnado con discapacidad, la potenciación de la actividad física y optar por un ocio sano y saludable.
Los centros participantes en este evento fueron los siguientes. De secundaria:  IES San Bartolomé, Tinajo, Playa Honda, Salinas y Arrecife.  De primaria: CEIP Alcalde Rafael Cedrés, Los Geranios, Titerroy, Capellanía del Yágabo, César Manrique, Alfonso Spínola y CEO Argana, y el Centro de Educación Especial Nuestra Señora de los Volcanes.
A lo largo de la mañana se realizaron multitud de pruebas: circuitos de agilidad, carreras de patinetas, lanzamientos de distancia y precisión, salto de longitud, carreras a pie. Un evento que fue organizado desde el IES Playa Honda, y llevado a la práctica por el alumnado del ciclo de grado superior TAFAD del IES Blas Cabrera Felipe, que coordinaron todas las pruebas para el disfrute de los jóvenes deportistas, que a lo largo de la jornada demostraron sus aptitudes y esfuerzo.
El acto contó con la lectura de un manifiesto por parte de Cristina Talens, alumna del aula enclave del IES Playa Honda, donde se reivindicaba la práctica deportiva para las personas con discapacidad, al mismo tiempo que se invitaba a todas las asociaciones, instituciones, centros educativos y empresas a implicarse y colaborar en este tipo de eventos.
Después de una divertida y agradable mañana, donde el esfuerzo y la superación fueron notas predominantes, la actividad se clausuró con la entrega de diplomas y medallas a los deportistas participantes. Un acto emotivo, donde la alegría y disfrute de los jóvenes inundó toda la avenida de Playa Honda.
El IES Playa Honda, "agradece la participación y colaboración del alumnado del TAFAD, del alumnado del IES Playa Honda, así como al Ayuntamiento de San Bartolomé, Ayuntamiento de Teguise, Cabildo de Lanzarote y Dirección Insular de Educación. Ahora solo esperar a que llegue el próximo curso para disfrutar de las III Olimpiadas Adaptadas"
Qué hacer si usted tiene una pasión por el atletismo, pero tiene  movilidad parcial? Me encontré con un interesante diseño llamado 'Petra running bike' que bien podría ser la respuesta a esa pregunta.
La Petra running bike  comprende un cuerpo alto y elegante y se ve como una bicicleta de tres ruedas.Viene sin embargo sin pedales y está diseñado para ofrecer el equilibrio y la estabilidad, mientras que proporciona al usuario con discapacidad la oportunidad de ejercitar sus músculos de las piernas con total seguridad. Originalmente diseñado por el experto diseñador de silla de ruedas Connie Hansen, la idea básica de un marco de funcionamiento se está convirtiendo cada vez más popular. Quest88, una empresa que los vende ( haga clic aquí  para obtener más información), afirma en su página web que el 'Petra Running Bike' "es predominantemente adecuado para personas con parálisis cerebral, aunque también es adecuado tambien  para las personas con distrofia muscular, enfermedad de Parkinson y otras discapacidades que afectan a la movilidad y el equilibrio ". Afirman además que el triciclo  se adapta a diferentes tipos de actividades y terrenos. Resumiendo lo declaran perfectamente  apto para: "La movilidad Basica, juegos, paseos familiares, Deporte y aptitud física". –